Coyote Valley, The Last Frontier
---
Home · Coyote Valley · Orchards Tanks and Windmills · Santa Clara ·
---
Barns

Heart's Delight' photographer hustles to snap vanishing past (5/14/2001)

Local & State Mercury News

Published Monday, May 14, 2001, in the San Jose Mercury News `Heart's Delight' photographer hustles to snap vanishing past BY MIKE CASSIDY

Mercury News Gabriel Ibarra is in a hurry. It's like he's rushing from a burning building, grabbing at any treasure to save it before it's destroyed. But his treasures are old buildings and orchards. The stuff that put the Heart's Delight into the Santa Clara Valley. The stuff that has been in the way of Silicon Valley progress and little match for its steamroller. Of course, Ibarra can't pick up the pieces of the past and hold them to his chest. So, he photographs them. Hundreds of photos of orchards, barns, canneries, drying sheds, roadside fruit stands. ``I got it just in time,'' Ibarra, 45, says pointing to a photo of a railroad roundhouse in San Jose. ``A short time later, vandals came and smashed all the windows.'' For a decade he's hurried to photograph the past before it is gone. This is a short intro to the above article that best describes my passion for the history of the "Valley of Heart's Delight. There are remnants still found in the eastern hills of San Jose, Milpitas and beyond. I enjoy my quiet time practicing this trade with the hope to share these beautiful pictures and insights with others who care about the valley's future.
---
Coyote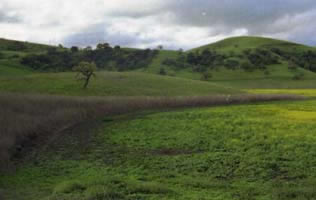 Coyote Valley: will cease to exist as we know it! Why? because of greedy developers & politicians are running the show over the intererests of the regular Joe's.
This is the last open space! where do we go to lose ourselves or rejuvinate our mindset and spirit if all we have is concrete, traffic & noise all around us?
This is a brief historical description of the beginnings of the area we now call Coyote Valley written by Historian Beth Wyman
First traveled by Spanish explorers - De Anza 1776 - De Anza Trek becomes El Camino Real becomes Highway 101 Spanish exploreres reported being met by "natives" - found thousands of cranes, geese, antelope and deep extensive forests of oak Unique geographical watershed. Drainage of Fisher Creek/Coyote River drains north to SF Bay; drainage of Llagas Creek/Pajaro River drains south to Monterey Bay.
19,972 acre Mexican land grant, Rancho Laguna Seca, sold to Fisher in 1846 for "high" price of $6,000. De Anza named it "dry lake" because it was dry in 1776 but still often wet with Fisher Creek flooding into Santa Teresa Blvd.
Fisher Ranch/Coyote Ranch - house built by Fiacro Fisher 1873. Liberata Cesena Fisher was grandmother of Diana Murphy Hill, wife of Hiram Morgan Hill.
Railroad to Gilroy 1870. SP Depot built 1869. SP had to elevate the tracks through Coyote gap several times due to flooding. Railroad opened area to settlement. Railroad flyers distributed in the midwest advertised subdivision of ranchos at $25 to $125 an acre.
Grange Hall built 1892. 30 miles of Black Walnut Trees planted on both sides of 101 from San Jose to Gilroy by Horace Greely Keesling in early 1900s. Keesling was farm editor for the SJ Mercury newspaper and grounds keeper of the Hayes Estate. He believed in "shade" as an effective transportation tool.
---
| | | |
| --- | --- | --- |
| The Spina storage barn at the corner of Santa Teresa & Bailey Ave, next to the fruitstand where you can get fresh fruit & veggies plus a view worth a million bucks. | | |
| | | |
| --- | --- | --- |
| | | Open landscape in the southern portion of Coyote Valley, a good balance between open space and very few houses. |
---
A Mercury News article that explains future issues in the transformation of Coyote Valley:
---
A great website that further details in words and pictures how to save and protect Coyote Valley:
A link to other informative open space advocate groups:
---

top